POMEGRANATE ARILS – 100% fresh pomegranate
BAR NAR is the only company in the region
to offer pomegranate year-round!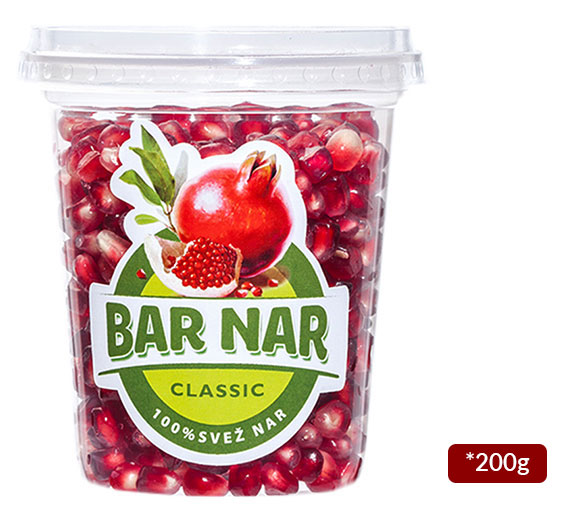 This is the staple product in BAR NAR's array of options and also, our trademark. This sweet pomegranate, known as Barski Slatki, is sourced from Montenegro and carries a sophisticated taste. It is the most famous and most sought-after variety in the Balkan region. The soft skin of this popular pomegranate absorbs the powerful Adriatic sun, rendering its vivid colour. Its pomegranate seeds are rich, large and dark red in colour. This particular variety is characterized by its fresh and sweet aroma, that is extremely rare among the sweet varieties commercially used.

The tart and sweet flavour is a pleasant gift for pomegranate lovers. Wonderful and Hicaz varieties are responsible for this flavour combination and burgundy colour. BAR NAR has chosen the best tart and sweet varieties where the sweet base is intertwined with citrus notes, thereby creating a rich and fresh aroma. Hicaz, one of the most popular pomegranate varieties in the Northern Hemisphere, is sourced from where the Aegean and Mediterranean seas meet: Turkey. We have selected it from the tens of other superb varieties that this region has cultivated for thousands of years. BAR NAR sources Wonderful, the most globally renowned variety represented on plantations across the world, from South Africa to South America, during the seasons in which pomegranate is out of its prime in the Northern Hemisphere.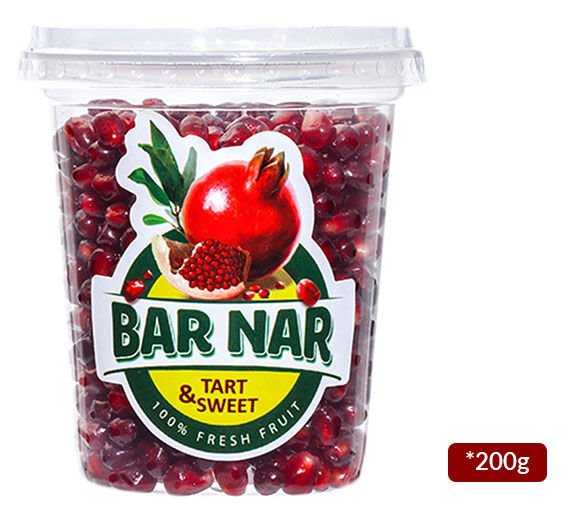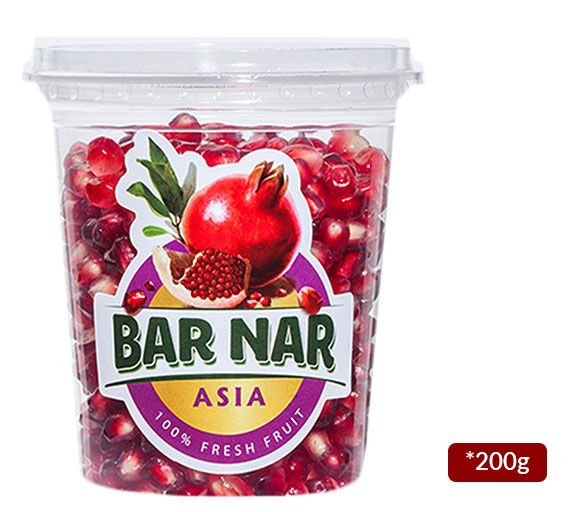 This product contains the notably juicy and sweet varieties of pomegranate from Asia, homeland of this deliciously nutritious fruit. In certain Asian countries, pomegranate is in season throughout the year, allowing BAR NAR to carry it even when its season in the Northern hemisphere is over. In Asian countries, pomegranate is considered a miraculous fruit, representing fertility, abundance, good health and eternal life. In searching for the best variety of Asian pomegranate, BAR NAR has explored orchards in Iran, Azerbaijan, Afghanistan, Armenia and India. The unique flavour of BAR NAR ASIA comes from the Indian variety Bhagwa, which is in season year-long. It is recognized by its light red coloured skin and delicious purple core.

BAR NAR products are in accordance with all food health and safety regulations (Official Gazette RS 17/2019)
Laboratory tests have confirmed levels of heavy metals and pesticides are within microbiologic norms
Packaging has been certified according to EN ISO 9001 : 2000 i ELOT 1416-HACCP